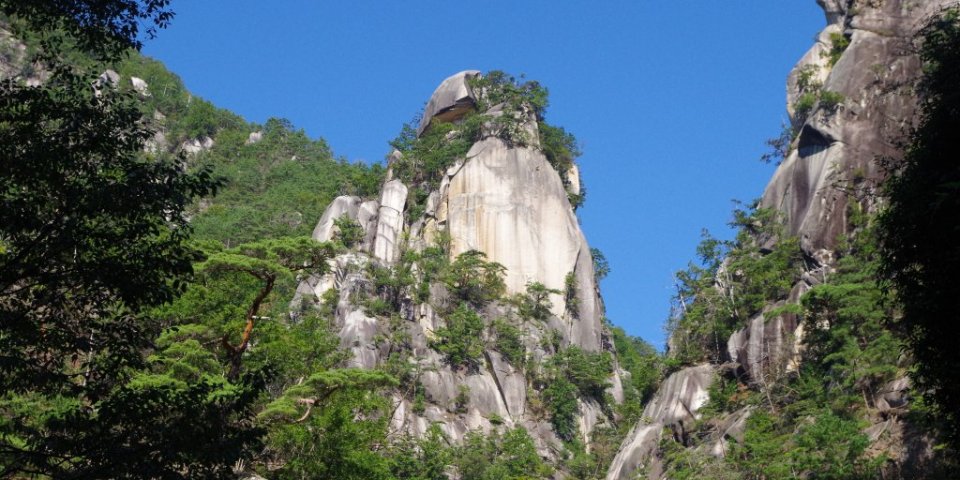 Take a scenic drive to "Shosenkyo", one of Japan's most beautiful gorges while enjoying magnificent views of Mount Fuji along the way!
Kofu Station
↓Approx. 10 min by car
1
Wada-toge Pass Overlook
The overlook at Wada-toge Pass offers an incredible panoramic view of the Kofu basin encircled by a formidable wall of moutains, with Mount Fuji in the distance.
The spot is particularly popular for its fantastic night view.
A must-see when visiting Japan Heritage site Shosenkyo Gorge, Sengataki Waterfall is located a convenient 5-minute walk away from the Taki Ue bus stop on the Shosenkyo bus line, or a 2-hour hike (6 km) away from the Shosenkyo-guchi bus stop at the starting point of the trail.

The area is exceptionally beautiful when the surrounding trees change colours during the fall season (early November).
3
Shosenkyo Museum of Shadowgraph
The Shosenkyo Museum of Shadowgraph is a unique museum supervised and designed in 1992 by Seiji Fujishiro, a famous paper-cutting artist known for his works made by placing cut out pieces of paper and other materials over a backlit screen. The museum is the first of its kind in the world, as recorded in the Guinness Book of World Records in 1994.

The exhibition room is deliberately dark save from the gentle light illuminating the shadowgraphs, featuring the heartwarming silhouetttes of animals and fairy-like characters dancing and singing happily within vibrant fantasy worlds.

Also showcased in the museum are over 30 art pieces by Kiyoshi Yamashita, known as the "Japanese van Gogh", and 25 pieces by Taisho era (1912-1926) artistic genius Yumeji Takehisa.

The building houses a gift shop, a restaurant, and a café selling locally produced honey and tasty honey treats.
A 5-minute cable car ride on the Shosenkyo Ropeway takes visitors to a panoramic viewing platform with a direct view of Mount Fuji in the distance. Yakumo shrine, with its striking green roof and red and white exterior, is a popular place to pray for marriage and can be found near the observation deck.
Go down the stairway by the platform to test your aim at the "bell throwing space"; for ¥100, visitors can try tossing a small "fortune bell" into a heart-shaped hole for a chance to have their wishes come true!

A short hiking trail leads to the summit of Yasaburo-dake peak in under 15 minutes, atop a natural platform of solid granite with a 360° view of Mount Fuji and the Southern Alps. The peak is known as a great "power spot" within Yamanashi prefecture, meaning a spiritual place where one can feel in-tune with nature, as it is said that a "dragon vein" –an invisible line carrying energy from the earth in Feng Shui philosophy– flows from Mount Fuji through Yasaburo-dake.

Another place of high spiritual energy is a small shrine dedicated to Wago Gongen, a deity born from the worship of a 350-year-old sacred tree, that attracts many visitors coming to pray for children, marriage and prosperity. A deity called Yasaburo Gongen, a god of sake, is enshrined in a miniature crystal shrine near the summit, and bottles of a highly-acclaimed sake known as "Yasaburo-dake" are sold at the souvenir shop inside the cable car station.
5
Otaki Waterfall in Itajiki Valley
Located in the depths of Shosenkyo Gorge, Otaki Waterfall is a magnificent, 30m (nearly 100ft) tall cascading stream that cuts through the mystical Itajiki valley.
Away from the bustling trails of Shosenkyo, lose yourself in the moment as you take a stroll through this quiet sanctuary of nature and serenity, where time seems to have come at a standstill.
This hidden spot is particularly beautiful in early November when the autumn colours are at their best.

Proper footwear fit for light trekking is recommended due to a number of slippery spots in the area.
Nestled at the top of Shosenkyo Gorge, Kanazakura shrine is one of the main landmarks of the Kofu region, known for its worship of Mount Kinpu. The sacred treasures kept within his walls are the Spheres of Fire and the Spheres of Water, five crystals excavated and polished in the area, and guarding the main hall of the shrine are two "ascending" and "descending" dragons each with a crystal ball entwined in their tail.
As the birthplace of crystal craftsmanship in Japan, Kanazakura shrine is known for its "goshuin" (seals given to visitors of temples and shrines and collected in books called "goshuincho") imprinted using a massive quartz crystal, making for quite the unique souvenir to bring home.

Many people visit the shrine in the spring to see its name-sake tree, the sacred "kanazakura" ("money tree"), of a rare variety of late-blooming cherry trees that produces yellow flowers known as "ukon-zakura" (turmeric cherry blossoms), believed to bestow good luck on visitors' finances.
While the hundreds of cherry trees planted on the premises typically bloom in mid-April, the ukon-zakura sprouts flowers in late April/early May every year, and the shrine celebrates its full bloom every year with a spring festival featuring century-old rituals and various music and dance performances.

A 15-minute walk on the path paved through the forest behind the shrine leads visitors to a viewing platform where both Mount Fuji and Mount Kinpu can be seen in the distance on a clear day.