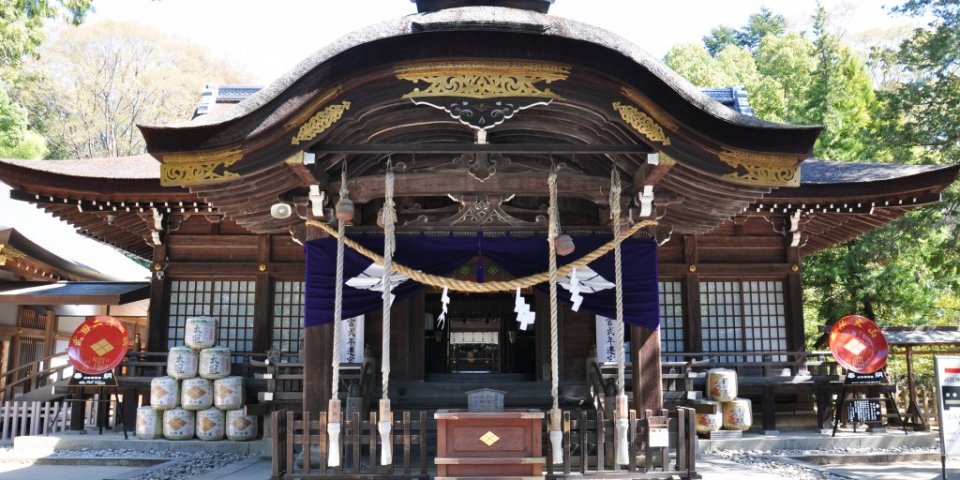 Take a historical journey through locations connected with Shingen Takeda, the famous warrior who once ruled over Kofu!
Kofu Station
↓Approx. 1 min on foot
1
Statue of Shingen Takeda
One of Kofu's most famous spots, Takeda Shrine is located on a major landmark of Japanese history: the ruins of the Tsutsujigasaki fortified residence, from which three generations of the powerful Takeda clan reigned over Kai province –modern-day Yamanashi prefecture– during Japan's Warring States period in the 16th century.
The stronghold fell into ruins after the clan's demise in 1582 and the center of Kofu shifted south to Maizuru Castle, but some of the original moats and stone walls still remain on the premises of this shrine built in 1919, exactly 400 years after the birth of Kofu, to commemorate its revered leader.
The Homotsuden treasure house exhibits authentic weapons and armor from the Takeda clan, including a sword donated by the family of Shingen's wife.

A number of locations within the shrine's precincts are thought by locals to bring good fortune, such as the "princess well" and the sacred trident pine tree, whose golden needles come in rare bundles of three said to bring economic prosperity to those who pick them up.

Takeda shrine is an especially popular spot to enjoy the cherry blossoms in the spring, with about 50 cherry trees planted on the site and many more lining the entire 2km-long Takeda-dori street leading to the shrine from Kofu station.

Opposite the shrine grounds is a brand new museum introducing the history of the Takeda clan, opened in April 2019.
The Shingen Museum is a new history museum which opened its doors to the public in April 2019.
4
Grave of Takeda Shingen
It is in this now quiet residential area of Kofu city that Takeda Shingen is said to have been cremated, and his remains buried in secret for three years –as per his will– before his demise was to be revealed to his rivals.

Other grave sites dedicated to Shingen all over the country include Erin-ji and Ryuun-ji temple in Yamanashi, Suwa lake in Nagano prefecture, Myoshin-ji temple in Kyoto, Chogaku-ji temple in Nara prefecture, Fukuden-ji temple in Aichi prefecture and Mount Koya in Wakayama prefecture.

The surrounding cherry blossom trees add a peaceful serenity to the site when in bloom during the spring.
Koshu Yumekoji is home to a wide range of shops offering local produce including a variety of local wines and traditional crafts. The complex also has a number of restaurants and cafes where visitors can enjoy regional cuisine and sweets.
6
Statue of Nobutora Takeda
Nobutora Takeda, father of the legendary warrior Shingen Takeda, was the founder of the city of Kofu. The statue is located at the north exit of Kofu station and is a popular location for photographs.