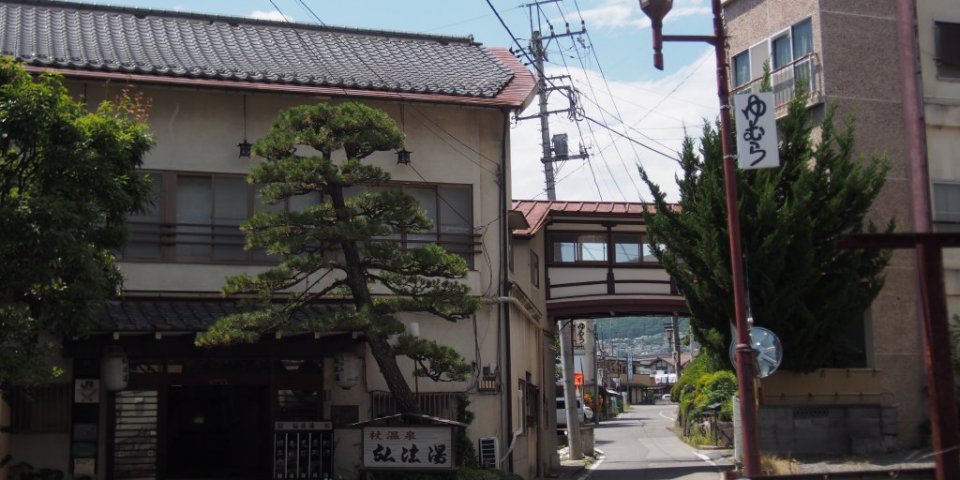 Many people visit Entaku-ji Temple in Yumura Onsenkyo to ward off evil spirits. This special ritual takes place in the temple on 13 and 14 February each year.
Kofu Station
↓Approx. 15 min by bus
1
Yumura Onsenkyo Hot Spring Resort
Natural hot springs have been loved by Japanese people since ancient times, for being not only relaxing and refreshing but also benefiting health and beauty.
Here in Kofu, the long and distinguished history of the Yumura Onsenkyo hot springs dates back 1,200 years; the legend says the area was discovered by Kukai –also known as Kobo-Daishi–, the Japanese monk who established the Shingon sect of Buddhism, when he struck the ground with his walking stick, causing a hot spring to gush out.

This well-known resort is known to have been frequently visited by prestigious 16th century Japan warlord and Kofu hero Takeda Shingen, famous ukiyo-e printmaker Hokusai, and a number of acclaimed Japanese writers, among which Dazai Osamu, who would often come on retreats to focus on their writing. The premises are home to a variety of hot spring inns where visitors can enjoy Yamanashi's incredible natural surroundings from the comfort of open air baths and gardens!

Not interested in staying the night? The resort welcomes day visitors looking for a short soak as well. Be sure to ask for a "Yumura-Tegata" pass to enjoy the hot spring baths of Yumura Onsenkyo to the fullest, for a discounted price!
Located in the Yumura Onsenkyo hot spring resort area, Entaku-ji temple lights up with life and excitement every year in mid-February during the popular Yakuyoke Jizō-son festival, one of Kofu's trademark events.

According to the legend, the guardian deity enshrined at Entaku-ji temple opens its ears to wishes and prayers only once a year, for 24 hours; and because Japanese beliefs have it that certain years in life are particularly unlucky, people in their "calamitous year" ("yakudoshi") come from all over the country on this particular day to be purified from the troubles to come by offering as many one-yen coins or similarly round objects as they are old to the stone statue of the deity.

Aside from receiving protection at the temple, visitors can enjoy a whole day (and night) of exciting festivities in the vicinity of the temple, where numerous stalls selling local products and delicacies set up shop in celebration. Truly a unique winter festival experience!