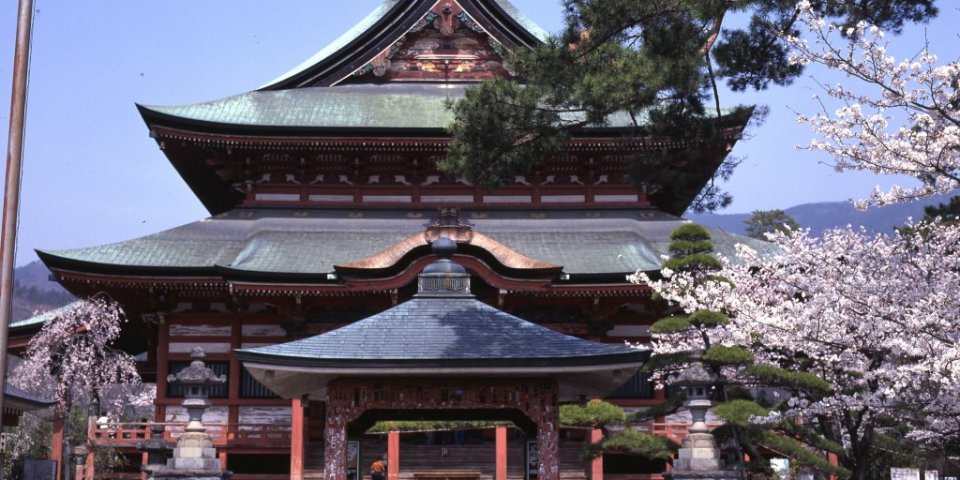 Admire the nationally recognised cultural buildings and join in the popular ritual of "Kaidan Meguri" which locals say brings participants good luck at this famous temple!
Kofu Station
↓Approx. 5 min by train
Approx. 8 min on foot from Zenkoji station
Zenko-ji temple was established in the 16th century by Takeda Shingen, who needed a new place to store the Buddhist treasures held within the original temple of the same name in Nagano prefecture, as he feared they would be destroyed in the heights of the battle that was raging in the area. The temple is home to a number of buildings and cultural treasures that are officially recognized as important cultural properties, and the main hall is among the largest wooden structures in Eastern Japan.

The main altar area features a giant two-headed dragon on the ceiling; it is said you can hear it weep by standing in a special acoustic spot, indicated by footstep prints on the floor, and clapping your hands as hard as you can.

Going further back into the main hall will take you to a corridor where one can experience "Kaidan Meguri": visitors descend into a basement and walk through a pitch dark underground passage, shaped in the character of 心 (kokoro; "heart"/"spirit"), in search of the "key to paradise", a padlock guarding the room with the temple's main object of worship that is believed to grant salvation and wishes to anybody who touches it. This sacred Buddhist image is revealed to the public every 7 years during an event known as "Gokaicho", attracting many worshippers seeking to touch the statue.
Next Gokaicho festival: April 3rd to May 29th, 2022.
Kaiterasu is a local industry showcase introducing visitors to a wide range of local products including jewellery, wine and traditional crafts. The on-site restaurant offers a variety of menu options including local specialties and international cuisine.
One of the "Kofu Gozan" ("five mountains of Kofu"), a hierarchical system following the one used to organize Buddhist temples in Kyoto and Kamakura, in which Takeda Shingen chose five temples on the slopes of the Kofu basin to be placed under his protection.

Toko-ji was founded around 500 years ago and houses the graves of both Shingen's eldest son Yoshinobu and Suwa Yorishige (whose daughter gave birth to Shingen's last son and heir, Katsuyori). After rebelling against his father, Yoshinobu was imprisoned in the temple, where he eventually died by his own blade. Suwa Yorishige was captured and imprisoned there as well following Shingen's invasion of Suwa, and also committed suicide by seppuku.

Within the temple's precincts is a rock garden famously designed by Lanxi Daolong, designated as an prefectural cultural property, that is especially beautiful when the irises are in bloom (May). The temple's main hall enshrines the "medicine Buddha" Bhaisajyaguru and is considered an important national asset.